The good news is: this is true.
The bad news is: It's only Toyota in Sweden (so far).
Toyota's service center, on Sweden's west coast cut shifts for mechanics back in 2002 actually and with the company reporting a increased profit, as well as happier staff, and lower turnover, it's stuck with the idea ever since.
Now, many businesses in Sweden are flirting with a six-hour working day in a bid to increase productivity and make people happier.
Employers across the country have already made the change, according to the Science Alert website, which said the aim was to get more done in a shorter amount of time and ensure people had the energy to enjoy their private lives.
Toyota centers in Gothenburg, Sweden's second largest city, made the switch 13 years ago, with the company reporting happier staff, a lower turnover rate, and an increase in profits in that time.
Across Sweden, only around 1% of employees work more than 50 hours a week, one of the lowest rates in the OECD, where 13% is the average. By law, Swedes are given 25 vacation days, while many large firms typically offer even more. Parents get 480 days of paid parental leave to split between them. Most offices are empty after 5pm.
"It's a very different experience to when I worked in the UK and clients wanted to stay in touch on weekends and during the evening," says Canadian-born Ameek Grewal, 29, who relocated from London to Citibank's Nordic headquarters in Stockholm a year ago.
Filimundus, an app developer based in the capital Stockholm, introduced the six-hour day last year.
"The eight-hour work day is not as effective as one would think," Linus Feldt, the company's CEO told Fast Company.
"To stay focused on a specific work task for eight hours is a huge challenge.  In order to cope, we mix in things and pauses to make the work day more endurable.  At the same time, we are having it hard to manage our private life outside of work."
Mr Feldt has said staff members are not allowed on social media, meetings are kept to a minimum, and that other distractions during the day are eliminated –  but the aim is that staff will be more motivated to work more intensely while in the office.
He said the new work day would ensure people have enough energy to pursue their private lives when they leave work – something which can be difficult with eight-hour days.
"My impression now is that it is easier to focus more intensely on the work that needs to be done and you have the stamina to do it and still have the energy left when leaving the office," Mr Feldt added.
According to Science Alert, doctors and nurses in some hospitals in the country have even made the move to the six-hour day.
A retirement home in Gothenburg made the six-hour switch earlier this year and is conducting an experiment, until the end of 2016, to determine whether the cost of hiring new staff members to cover the hours lost is worth the improvements to patient care and boosting of employees' morale.
originally posted on: the independent
Should the US move to a 6-hour working day?
According to a recent poll conducted by YouGov, 52 percent of Americans feel a workday lasting 7 hours or less is the most productive. Broken down further, 15 percent of respondents said that 6 hours is the most productive length of a working day while 19 percent said 7 hours.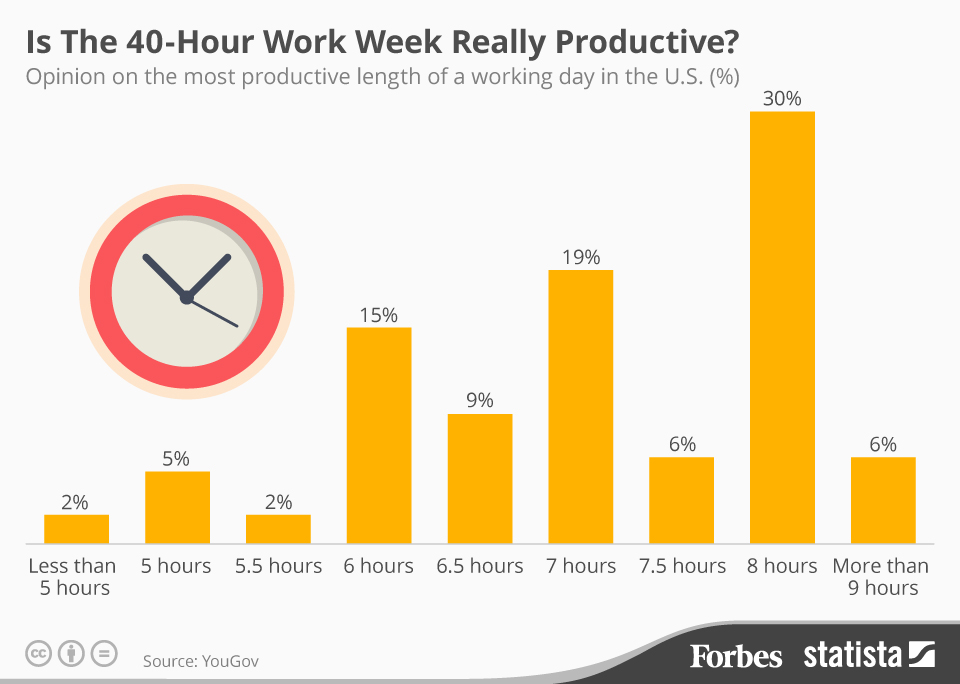 POLL: